"A fool and his money are soon parted."
Will New York follow California and give I.O.U.'s for tax refunds? Should this cause you to correct your New York Income Tax Withholding rates?
Here's a California I.O.U. called a"registered warrant"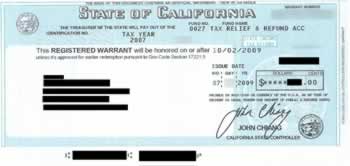 But
the big California banks didn't want to honor these California warrants.
and they were
illiquid for using directly for purchases
, but the
Cuomos
would be traditional script which could be used for purchases and bill payments, if someone will take them.
A proposed "Cuomo"
$3
NEW YORK TREASURY I.O.U.
$
3
New York Comptroller, Thomas DiNapoli
In C

uomo and in New York State we trust
Backed by the Full Faith And Credit of New York State
Nicknamed "the Cuomo" NY State can print plenty of these to give to you. Why a $3 dollar value?
An alternate currency is in use in Mid-Michigan, such as a
Ron Paul half troy ounce of silver or a gold Ron Paul
Of course, the NY script (I.O.U. or the
Cuom
o
) would be backed by the full faith and credit of Andrew Cuomo and NY State, but it could only be used if it was willingly taken, because of
Article I Section 10 of the Constitution: Section 10
.
No state shall enter into any treaty, alliance, or confederation; grant letters of marque and reprisal;
coin money
; emit bills of credit; make anything but gold and silver coin a tender in payment of debts; pass any bill of attainder, ex post facto law, or law impairing the obligation of contracts, or grant any title of nobility,
Which would you take a Ron Paul half troy ounce of silver

or some
Cuomos
or some California "warrants"?
While pondering, sell your New York bonds, change your NY Income Tax withholding so you don't get a refund.